World Trade Center Evening Tour
Your tour of the World Trade Center 9/11 Memorial begins as the sun is setting and the crowds have thinned. Then, the Memorial is more tranquil, and the sound of the rushing waterfalls calms. The lighting around the base defines the area where the towers once stood; the names of the lost become distinct on the bronze tablets. Your experience is more poignant and personal.
This tour will provide a comprehensive overview of the attacks, the aftermath, and the uplifting rebirth of the World Trade Center and Lower Manhattan.
You will meet your guide in front of St Paul's Chapel. You will learn about the church's miraculous survival and revival in the attack's aftermath. The tour encompasses the Oculus, the transportation hub on the WTC site, the Fireman's Memorial, and the 9/11 Memorial grounds. Finally, you'll enter Brookfield Place, 
where You will visit the Memorial of the Eleven Tears, which honors the employees of Amex who perished in the North Tower. 
It is at this Memorial that the tour ends. Your guide will be with you the entire time.
After your tour, stick around; there are numerous places to eat and explore.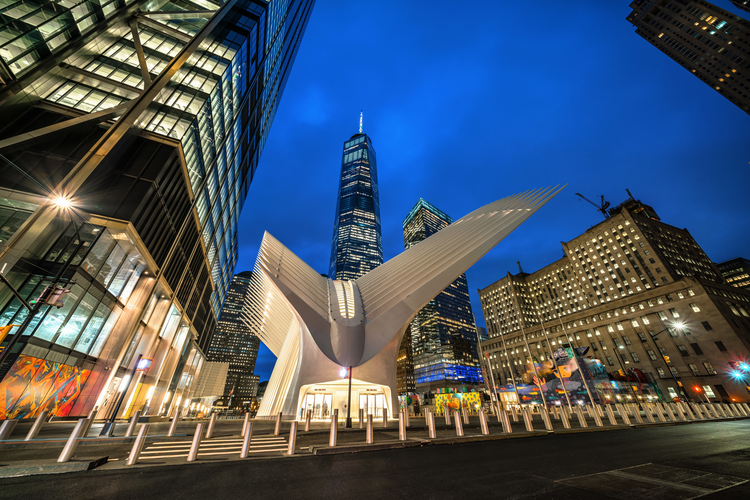 World Trade Center Evening Tour with NY See Tours
Witness the inspiring beauty of the World Trade Center at dusk with our expert-guided evening tour. Uncover its profound history and symbolic significance. Book your World Trade Center tour now.
Embrace the Spirit of Resilience
Welcome to NY See Tours, your premier gateway to exploring the wonders of New York City! For over a decade, we have been devoted to sharing our passion and excitement for this magnificent city with visitors from around the globe.
We believe that every landmark holds a story waiting to be unveiled. Our dedicated team of local guides, led by our founder Fred Pflantzer—a native New Yorker brimming with enthusiasm—is committed to curating exceptional experiences that leave you captivated and inspired.
As you embark on our World Trade Center Tour, you'll step into a realm of history and significance. The World Trade Center stands not only as a remarkable architectural marvel but also as a symbol of triumph over adversity.
Book your tour with NY See Tours.
Why Take the World Trade Center Evening Tour?
As the sun sets over New York City, the World Trade Center comes alive with a mesmerizing glow, radiating hope, resilience, and progress.
Our evening tour offers a unique opportunity to experience this iconic landmark in a whole new light. Here's why you should be a part of this unforgettable journey.
Symbol of Triumph
The World Trade Center stands tall as a symbol of strength, determination, and the unwavering spirit of humanity. Discover the powerful story of rebuilding and renewal after the tragic events of September 11, 2001.
Architectural Marvel
Marvel at the innovative design and engineering prowess that went into creating the One World Trade Center—also known as the Freedom Tower—and the surrounding 9/11 Memorial and Museum. 
Guided Insights
Our experienced guides will provide profound insights into the history, design, and significance of the World Trade Center. Gain a deeper understanding of its cultural and economic importance.
Moving Tribute
Pay your respects at the 9/11 Memorial, a moving tribute to the lives lost and the indomitable spirit of those who rebuilt this extraordinary place.
How It Works
Booking your World Trade Center Evening Tour is a breeze with NY See Tours. Follow these simple steps to secure your spot.
Step 1: Choose Your World Trade Center Tour
Select the World Trade Center Evening Tour and get ready for an evening of inspiration and remembrance.
Step 2: Pick Your Date and Time
Browse our available tour dates and times on our website. Find the perfect time to witness the World Trade Center's enchanting evening ambiance.
Step 3: Book Your Tour
Click the "Book Your Adventure" button and follow the easy instructions to complete your reservation. Prepare for an unforgettable evening at the World Trade Center.
Book Your World Trade Center Evening Tour
Join NY See Tours for an evening of reflection and hope as we explore the World Trade Center's enduring spirit. Reserve your World Trade Center tour spot now for a truly unforgettable experience.
Private Tour
Up to Six People
Alison - Customer
"Thank you Fred for an awesome tour! I love the fact that this tour not only includes easy transport from Midtown Manhattan out to Dyker Heights and a walking tour of some of the best holiday lights but also includes a tour and history of everything we pass on the way there and more holiday lights on the way back!! A wonderful way to see NYC during the holiday season!!"
☆ ☆ ☆ ☆ ☆
stu026 - Customer
"Fabulous tour- the whole family enjoyed it- the bus ride to Brooklyn was so informative and full of snippets of facts and information about the districts we passed through- yes it's pricey but we had so much more for our money"
☆ ☆ ☆ ☆ ☆
Renee_H - Customer
"JA was so educated - wise - funny - learned so much on the tour . He led us through the streets - but gave guests option to walk on their own"
☆ ☆ ☆ ☆ ☆
William_H - Customer
"Large bus tour with on board guide. Left on time with a mix of families, couples, both old and young. Guide was knowledgeable, informative, but a bit corny. Drove through several Manhattan areas including Chelsea, Meatpacking, then Dyker Heights (the crown jewel), Brooklyn for Manhattan skyline view, Washington Square and Rockefeller Center. Dyker heights was crowded and the group moved slow, but we were free to explore on our own as we had the departure time and location spelled out. Lights are ridiculously amazing and worth the trip. The tour bus will drop you off at the numbered cross streets as you make your way north on 5th (?) Ave. to Rockefeller, but you'll miss the famous tree. Otherwise, tour ends and you need to find your way back to your hotel (there is a subway station at Rockefeller, FWIW)."
☆ ☆ ☆ ☆ ☆
Yesmerald - Customer
"We really enjoyed the Christmas lights. The guide was very friendly and knowledgeable and kept us entertained during the bus ride to Dyker Heights providing a lot of interesting information about NYC. Once you arrive to Dyker Heights It can be a bit fast paced for some people if you choose to stay with the tour guide which I highly recommend if you don't want to get lost. Forget about stopping to get hot chocolate or ice cream and treats from vendors. You won't have time and will be left behind if you do, you have the option to go your own way and see the lights at your own pace but it's better to follow the guide as he has some interesting info about some of the houses. This tour gets you into the holiday spirit 😊. I recommend this tour."
☆ ☆ ☆ ☆ ☆
Beckymartin721 - Customer
"The guide is wonderful the lights are beautiful this should be on everyone's bucket list. We have done this 2 years in a row and still learn something new each trip."
☆ ☆ ☆ ☆ ☆
Denise_Y - Customer
"Our guide Dave I believe his name was , he has so much knowlegde of New York. Everything was beautiful so worth it"
☆ ☆ ☆ ☆ ☆
SamVicC - Customer
"I've wanted to do this tour for ages so when we booked our dream trip to NYC from the UK, this was a must on the list. It did not disappoint. We were picked up and greeted by the lovely Ray. He was amazing, so knowledgeable and funny telling us everything he knows, it was a lot! Once at Dyker Heights, Ray takes you around some of the best decorated houses you'll ever see whilst constantly giving you Information. He showed an interest in his guests, where they were from etc. That was really nice. The houses blow you away. Some really get into the festive period. We came on the 1st December so not everyone had decorated but it was an incredible experience. I highly recommended this tour and trip. We'll definitely do it again when we come back."
☆ ☆ ☆ ☆ ☆
Georgina_O - Customer
"Fred was an amazing guide from historical facts, to knowledge of all the trials, to amazing fun and laughter through the whole tour. Highly recommend. Even for those NYC residents who have never ventured into the North Woods (me)."
☆ ☆ ☆ ☆ ☆
Ann_T - Customer
"Fred the tour guide was wonderful and knew so many people in the Park and on the tour. We walked a lot and there were some steep parts"
☆ ☆ ☆ ☆ ☆