Central Park Tours by NY See
Beautiful Fall in Northern Central Park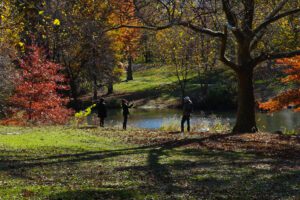 It's fall in Central Park, and this living work of art is transitioning dramatically from summer green to a dramatic fall landscape.
On this tour, you will meander from 103rd Street & Central Park West past the Pool into the North Woods. There, accompanied by your guide, you will visit one of Central Park's most beautiful landscapes as it changes into falls striking colors. With waterfalls flowing and birds chirping, it's hard to believe you're just three miles from Times Square. With your knowledgeable tour leader, you'll learn about Central Park's history and the brilliant people that built it.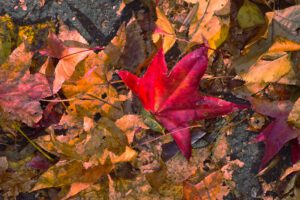 It's not "peak foliage" yet, (that will occur mid to end of October). But the North Wood is already starting to change. On foot, through dappled lanes, with bird calls echoing in your ears, you will experience the fall colors in Northern Central Park.
The Central Park fall tour is two hours long; it ends at the Dana Nature Center at 110th Street and Lenox Avenue.
Central Park Secrets – Although Central Park is visited by over 40 million people a year, few are aware of the North Woods' magic. The area is a bird watcher's paradise and peaceful refuge.
Secret Central Park – The North Woods remains the least engineered and the most rural of all of the park's features. The cliffs that the Blockhouse from the war of 1812 sits on overlook Northern Manhattan.
"When friends from upstate came down for the weekend, I found a unique tour for us - Central Park Secrets - led by Fred P. Even on a dreary, rainy day, we had a lovely time meandering around the North Woods of Central Park and into "secret" locales. How often do you get to see a friendly woodpecker fly over for a mid-day snack out of your tour guide's hand?! Wow! On top of that, Fred is knowledgeable and accommodating. I would recommend his tour to anyone looking to fill a few hours of time in a fun and interesting way."
"My wife and I had a great time on the tour. Fred was very knowledgeable and likeable. We had a blast! The highlight of the tour was when a woodpecker ate right out of Fred's hand. We will definitely be back at the park looking for that same friendly woodpecker. We could have spent all day in the park and still been wanting more. Kudos to Fred and Central Park!"
Worth every penny and more
This tour was so much more than was described in the listing and worth more than was charged. It was a thorough tour and history of Manhattan and Brooklyn. Our guide, Ray, was entertaining and knowledgeable. The Dyker Heights lighted houses was fabulous. I highly recommend this tour. Small group was nice too.
Fred is the Best!
I'm not sure what I enjoyed more the ride over to Brooklyn or the phenomenal Christmas lights at DykerHeights. Our guide, Fred, was the BEST!!!! His knowledge of all the New York neighborhoods andhistory of New York was endless!