Now is the peak time to enjoy a Central Park Tour. Spring has sprung in the Park; it is the most dramatic of the seasons. The cherry trees have burst majestically into bloom, accompanied by radiant daffodils, tulips, and Lenten roses. Turtles have emerged from their winter brumation to sun on the rocks along the streambanks and edges of Harlem Meer*.
At Cherry Hill, people eat picnic lunches under a canopy of pink blossoms. Many women dress brightly in pink; to match the blooms; it is a fiesta for photographers. Along Lilac Walk, the buds are ready to burst into lush and fragrant flowers; All the Park's creatures welcome the spring.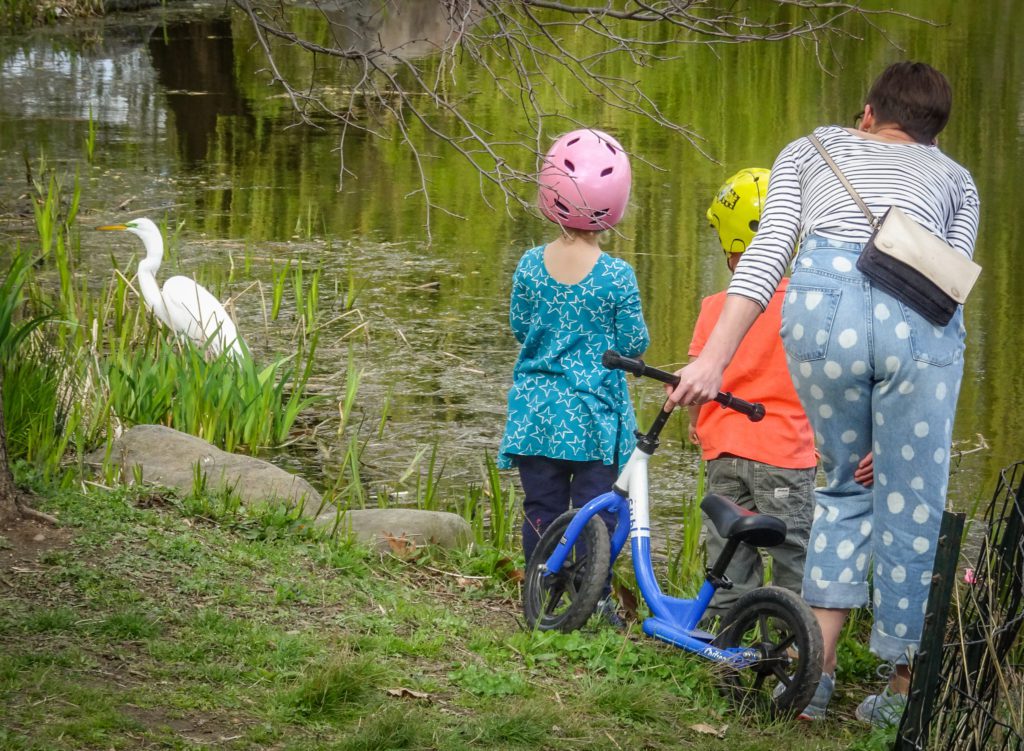 I witnessed robins building a nest –
Now is the time for many birds that inhabit the rustic North Woods or Ramble to breed. I spied two robins building a nest in the crook of a tree. It was a ragtag structure, with some twigs, pieces of paper, and slivers of plastic bags. But they were diligent and built it quickly. It was only about four feet off the ground; only about 40% of chicks survive, and only 25% of them live until November.  
I grew attached to the two little robin chicks inhabiting the nest – I checked on them every couple of days as they grew more robust with each visit. At the tree, there was a man I'd run into regularly. The birds' development captivated him, too, he didn't speak any English, but we shared our joy through smiles and gesticulations.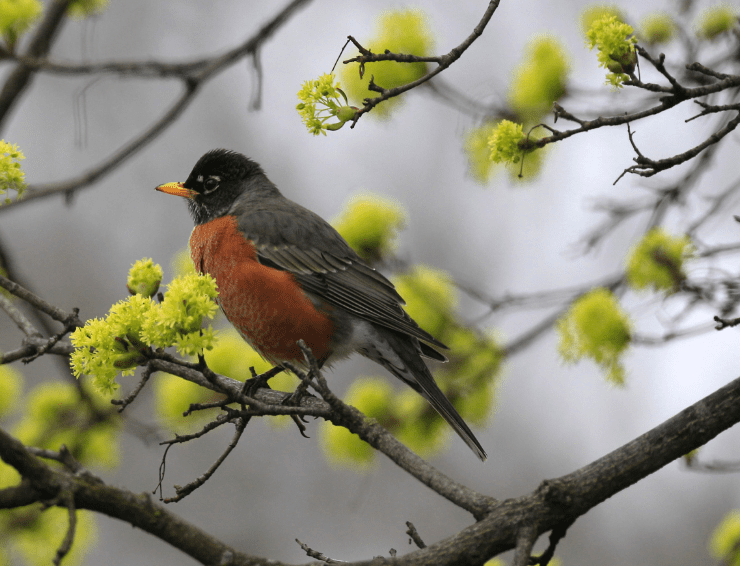 I watched them grow –
Once, while walking towards the nest, I spotted a parent feeding the two active little mouths. I waited for mama or daddy to go, and I then gently videotaped them in their home. A couple of days later, I returned, but the nest was empty. I hope they flew off safely. It's only about thirteen days from when a chick hatches until it's ready to fly the coop – they looked prepared to go. I hope they made it. Surprises are around every corner on our Central Park tour.
You'll learn fun things on our Secret Central Park tour. As I mentioned in an earlier blog, I live just north of Central Park in Harlem. Everything about the Park interests me. I'm constantly looking for ways to refine our Central Park tours. Crazy as it sounds, I think of the turtles on some winter nights as I lie in my cozy bed listening to the wind howling outside. 
I observed the terrapins –
What are they doing, how do they breathe, and what do they eat? I assumed they hibernate, but they do not; they brumate. Brumation is a process that allows an animal to extract oxygen from the water through their blood vessels and not their lungs. The largest concentration of blood vessels is in their butts; it's called cloacal respiration. Their metabolism slows down when it gets cold; it's similar to deep sleep.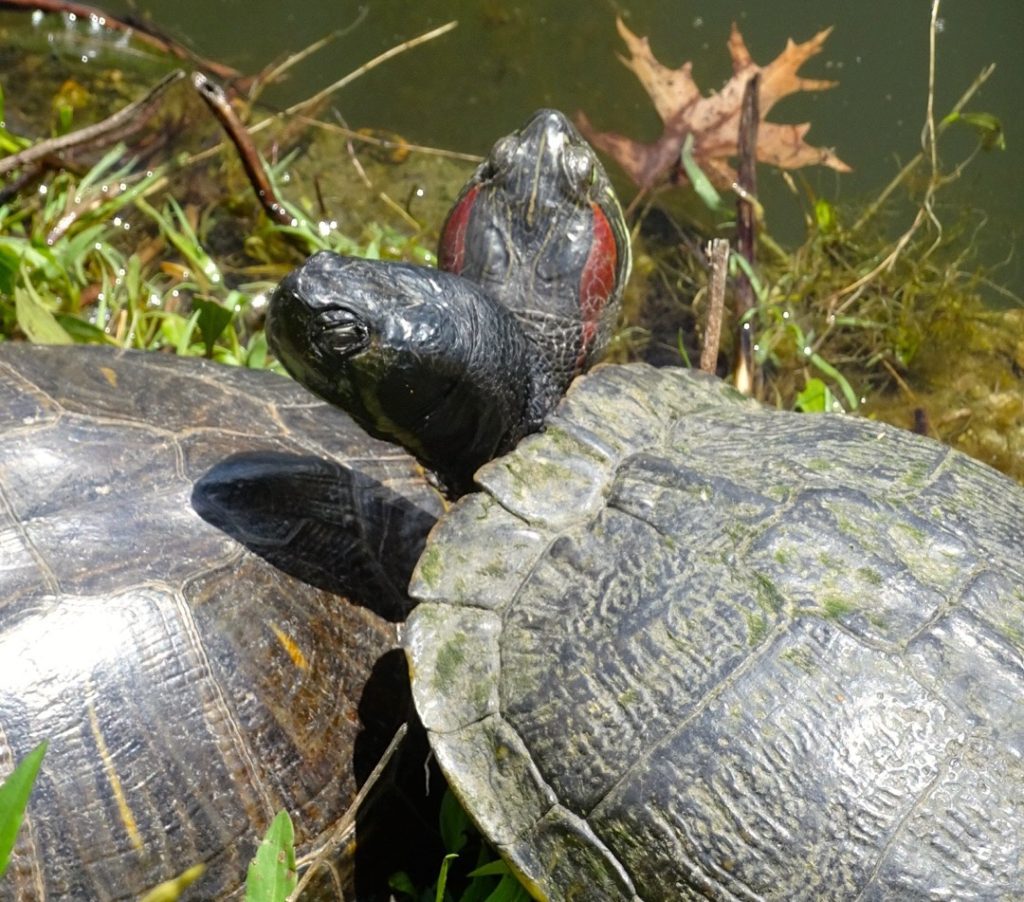 There are red-eared pond sliders, painted turtles, cooters, and primordial-looking snapping turtles; they inhabit the Harlem Meer. You'll visit the *Meer on our Secret Central Park tour. 
In spring, as the light changes, the terrapins see the shift in light, leave their brumation state, and head to the surface. They must be elated; they start breathing through their lungs once they surface. Lactic acid has built up in their bodies; they counteract that with calcium and carbonates from their shells.
However, their main activity is basking; they sunbathe to increase their temperature and strengthen their shells with UV rays. They are beautifully self-contained creatures and perfectly adapted to their environment. Kids love the terrapins; it's fun to watch them clamber up on the rocks and pile atop one another to catch some sun. They seem very peaceable creatures and don't mind sharing their spots in the warming sun. It's a beautiful tour for families and shows a side of New York City that is often overlooked. The tour will delight your senses.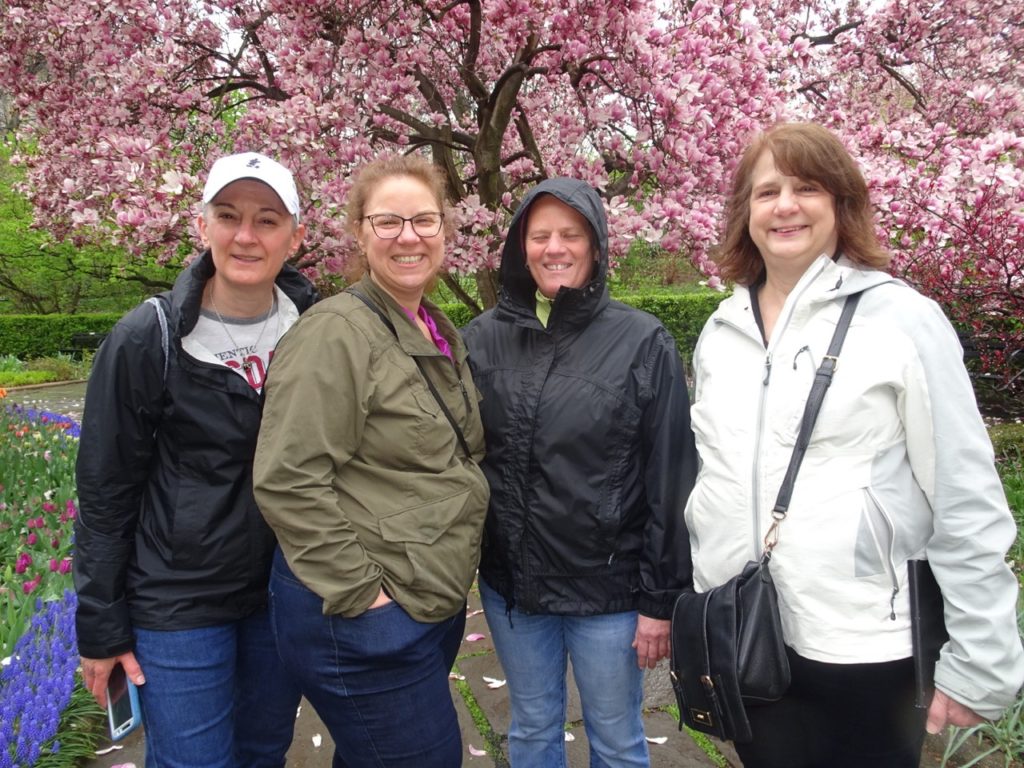 I have gained a new respect for this humble animal.
I sleep more easily at night, knowing that no matter how cold it gets, my turtle pals are safe and thriving at the bottom of the lake. Waiting for the first hint of warming sunlight to bob to the surface and find a nice place to bask. We'll see turtles and much more. If lucky, a little Downy woodpecker or a red-winged blackbird will eat out of your hand. Join us on a Central Park tour to experience the glorious spring.
*The word "Meer" is Dutch for "small sea," and the name reflects the Park designers' interest in unique names for the Park's water bodies. It also connects to the area's past, once part of the Dutch village of Haarlem. This artificial lake was created on the location of a tidal marsh that was fed by a creek that extended south to the Harlem River. The Harlem Meer was designed as part of a sequence of landscapes connected by water: the Pool to the west flows into the Loch, which then flows into the Meer….
I want to thank Jacqueline Litzgus, professor in the Department of Biology at Laurentian University, for her excellent article on turtle brumation. The article originally appeared in The Conversation on November 21, 2017
---