Private Custom Central Park Tour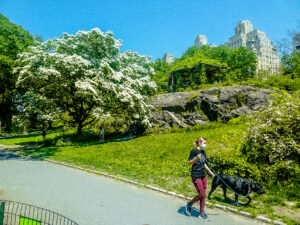 NY See Tours offers fully guided, immersive private tours of Central Park. With our guidance, you will explore Central Park and learn its fascinating history. Who were the visionaries that created it? What did a New Yorker do for recreation before CP?
Strolling along the Park's winding paths, you'll be charmed by the lakes, vistas, landscapes, geology, flora, and fauna. There are surprises around every corner.
With your custom-made itinerary, you will see the Park with fresh eyes. A private guided tour is an exciting and genuine way to experience the Park.
Let one of NY See's expert guides show you Central Park, one of the world's treasures. Lose yourself for four hours. You'll soon forget that you are in the middle of one of the densest urban environments on Earth.
With your input and our guidance, create a custom private tour 

Learn about the visionaries behind the creation of Central Park 

What did people do for recreation before the creation of the Park?

Visit the lakes, and see the pastoral and picturesque landscapes.

Learn about the geology, flora, and fauna

Experience the world-renowned bird sanctuary, a birders delight

Enjoy a customized itinerary tailored to your needs and preferences

Experience the excitement and authenticity of a private guided tour

Let our expert guides showcase Central Park, one of the world's treasures

Lose yourself for four hours, forgetting you're in the middle of Manhattan
Private Central Park Tour
Up to Six People
Alison - Customer
"Thank you Fred for an awesome tour! I love the fact that this tour not only includes easy transport from Midtown Manhattan out to Dyker Heights and a walking tour of some of the best holiday lights but also includes a tour and history of everything we pass on the way there and more holiday lights on the way back!! A wonderful way to see NYC during the holiday season!!"
☆ ☆ ☆ ☆ ☆
stu026 - Customer
"Fabulous tour- the whole family enjoyed it- the bus ride to Brooklyn was so informative and full of snippets of facts and information about the districts we passed through- yes it's pricey but we had so much more for our money"
☆ ☆ ☆ ☆ ☆
Renee_H - Customer
"JA was so educated - wise - funny - learned so much on the tour . He led us through the streets - but gave guests option to walk on their own"
☆ ☆ ☆ ☆ ☆
William_H - Customer
"Large bus tour with on board guide. Left on time with a mix of families, couples, both old and young. Guide was knowledgeable, informative, but a bit corny. Drove through several Manhattan areas including Chelsea, Meatpacking, then Dyker Heights (the crown jewel), Brooklyn for Manhattan skyline view, Washington Square and Rockefeller Center. Dyker heights was crowded and the group moved slow, but we were free to explore on our own as we had the departure time and location spelled out. Lights are ridiculously amazing and worth the trip. The tour bus will drop you off at the numbered cross streets as you make your way north on 5th (?) Ave. to Rockefeller, but you'll miss the famous tree. Otherwise, tour ends and you need to find your way back to your hotel (there is a subway station at Rockefeller, FWIW)."
☆ ☆ ☆ ☆ ☆
Yesmerald - Customer
"We really enjoyed the Christmas lights. The guide was very friendly and knowledgeable and kept us entertained during the bus ride to Dyker Heights providing a lot of interesting information about NYC. Once you arrive to Dyker Heights It can be a bit fast paced for some people if you choose to stay with the tour guide which I highly recommend if you don't want to get lost. Forget about stopping to get hot chocolate or ice cream and treats from vendors. You won't have time and will be left behind if you do, you have the option to go your own way and see the lights at your own pace but it's better to follow the guide as he has some interesting info about some of the houses. This tour gets you into the holiday spirit 😊. I recommend this tour."
☆ ☆ ☆ ☆ ☆
Beckymartin721 - Customer
"The guide is wonderful the lights are beautiful this should be on everyone's bucket list. We have done this 2 years in a row and still learn something new each trip."
☆ ☆ ☆ ☆ ☆
Denise_Y - Customer
"Our guide Dave I believe his name was , he has so much knowlegde of New York. Everything was beautiful so worth it"
☆ ☆ ☆ ☆ ☆
SamVicC - Customer
"I've wanted to do this tour for ages so when we booked our dream trip to NYC from the UK, this was a must on the list. It did not disappoint. We were picked up and greeted by the lovely Ray. He was amazing, so knowledgeable and funny telling us everything he knows, it was a lot! Once at Dyker Heights, Ray takes you around some of the best decorated houses you'll ever see whilst constantly giving you Information. He showed an interest in his guests, where they were from etc. That was really nice. The houses blow you away. Some really get into the festive period. We came on the 1st December so not everyone had decorated but it was an incredible experience. I highly recommended this tour and trip. We'll definitely do it again when we come back."
☆ ☆ ☆ ☆ ☆
Georgina_O - Customer
"Fred was an amazing guide from historical facts, to knowledge of all the trials, to amazing fun and laughter through the whole tour. Highly recommend. Even for those NYC residents who have never ventured into the North Woods (me)."
☆ ☆ ☆ ☆ ☆
Ann_T - Customer
"Fred the tour guide was wonderful and knew so many people in the Park and on the tour. We walked a lot and there were some steep parts"
☆ ☆ ☆ ☆ ☆